I have heard it said, the Molot Vepr 12 is a beast that is ready for almost any task. Unfortunately, with the sanctions implemented last year, this beast seems to have been cut down in its prime. With collectors calling for the last few units left in the country, the price of the Vepr—and all Molot's for that matter—seems to continue to rise. This is unfortunate as the Vepr 12 has seemed to surge in popularity among many shooters and particularly amongst competitive shooters.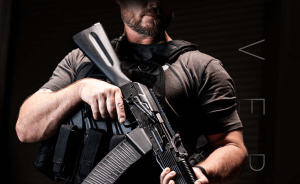 Just this year, Vepr 12s could be found in the hands of some of the top American shooters at the Shotgun World Shoot in France. However, you may not have recognized the guns in the hands of Lanny Barnes, Heather Miller, and IPSC Shotgun World Champion Josh Froelich as Vepr 12 shotguns. These $800 guns had been converted into finely tuned pieces of art worth almost 10x more than the original. Who is the artist behind these masterpieces? Dissident Arms, a company that clearly lives up to its motto – We Know Competition.
Dissident Arms is quickly becoming known as the destination for competition grade VEPR 12 shotguns and accessories. Located in Conroe, Texas and founded by competitive shooters for competitive shooters, Dissident Arms knows what they are doing. Mike Whitesides and Lan Nguyen (both active competitive shooters themselves) founded the company in 2012 as AK gunsmiths. We asked these two pros if they would answer a few questions for us.
How did the concept for Dissident Arms get started?
The concept was to take the beloved AK platform and furnish it with modern parts and services; resulting in a more usable firearm for today's shooting disciplines. We started out of a small gun shop in Cypress, TX in 2012 building high quality firearms from VEPR and SAIGA rifles and shotguns. After being introduced to 3-Gun from television, we were quickly drawn into competition and established a shooting team in 2014.
Then, we obtained our own FFL in 2016 allowing Dissident Arms to clearly define itself as a company focusing exclusively on VEPR-12 shotguns.
Why did you select the VEPR 12 as your preferred platform?
Competition shotguns require reliability, durability, and longevity to be considered, and the VEPR-12 was the clear winner. Mike purchased two VEPR-12 during the first wave of 2012 imports. Theses magazine fed shotguns set the stage for moving directly into Open Division after being introduced to 3-Gun.  Not realizing the full potential of the VEPR-12, Mike built Open shotguns on virtually every available platform: Akdal 1919, R&R Saiga 12, and Benelli m2 w/ 16rd tube & m2 w/ X-Rail. Not satisfied with the results, everything lead back to the VEPR-12. The VEPR-12 has proven to be the absolute best platform to build our signature model the KL-12.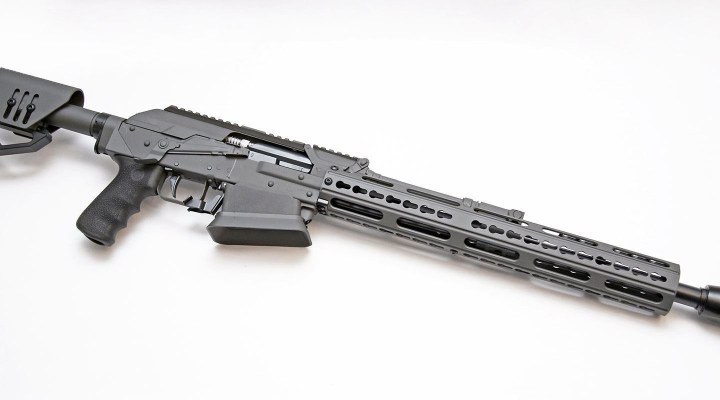 How has the VEPR 12 platform performed for you?
Magazine fed shotguns have a very bad reputation in competitive shooting due to all the subpar offerings. We took this a personal challenge while developing the VEPR-12. After shooting dozens of malfunction free major matches and our shooters winning everywhere we have reversed this opinion. Now Dissident Arms is known to be the most reliable shotguns on the range no matter the division. The quality of VEPR-12 continues to impress.
Which competitions have the VEPR 12 has been used in and has it been successful?
IPSC Shotgun World Shoot 2018 – 1st Overall Gold Medal, Ladies 2nd Silver Medal
Lucas Oil US Shotgun Series 2018 – 1st Place Series Champion
USPSA Multigun Nationals 2018 – 2nd 3rd & 4th
Numerous National Major Matches Wins by Josh Froelich, Sgt. Joel Turner (Army Marksmanship Unit), Max Michel, JJ Racaza, Shane Coley, the U.S. Navy Marksmanship Team, Marine Combat Shooting Team, Air Force Action Shooting Team, and other top shooters.
How many rounds have you shot through your VEPR 12?
We have documented over 100,000 rounds through a single gun in 12 months (2017) with nothing more that maintaining the recoil springs. We have a 2012 import with over 60,000 rounds still being used as a match gun. Josh shot 3,000 malfunction-free rounds without cleaning and 1,000 malfunction-free rounds in a single day.
Where do you see Dissident Arms going in the future?
We are fully committed to the Molot VEPR 12, and plan on being well supplied with both guns and aftermarket accessories through the sanctions. We are starting to build premium AK competition rifles and will offer 2011 pistols soon. Our hope is that the political situation will improve, allowing for the free flow of quality Russian firearms again. If reality is not so kind, necessity is the mother of invention and Dissident Arms will adapt to continue delivering quality products.
How much are the Dissident VEPR 12 shotguns going for and how long does it take to get one?
The Competition Ready model, the CR-12, starts at $2,100. The CR-12 is based off the Russian IPSC models that have been dominating for several years. A true bargain with a lifetime warranty. Our Flagship, the KL-12, starts at $3,700 and offers all our premium features including Briley Internal Choke system, Ultra Low Sight Rail, Left side Charging Handle, DA Adaptive Stock and comes in the color of choice. The current build time is 8-12 weeks.

Dissident Arms builds their world class shotguns from the classic Molot VPR-12-11 model imported exclusively by FIME Group in Las Vegas, Nevada. However, there are a number of VEPR 12 models available for those who want the more traditional look and feel of the popular shotgun. Notably, for those looking for the left-side folding tubular buttstock there are the VPR-12-03, and for those who want a short barrel version popular for home defense, they have the VPR-12-04. If you are looking for a solid stock you may prefer the VPR-12-07. Either way, you are going to be impressed with these shotguns.
Clearly, the Vepr 12 is a beast that has been unleashed on the competitive shooting world with companies such as Dissident Arms harnessing the strength of the platform into something of beauty and finesse. However, with the sanctions in place there are limited quantities available, and if you want your own VEPR 12—or any other remaining Molot firearm, you should pick one up before they are gone. The VEPR 12 is not subtle and whether used for self-defense, hunting, competition, or just for fun, you can be comfortable knowing you have invested in a firearm that will only increase in value, it will be your "go to" gun when the stuff hits the fan. Check K-Var.com if you're looking for your next AK Shotgun!