Col. Jeff Cooper defined a general purpose rifle or Scout Rifle as "a conveniently-portable, individually-operated firearm, capable of striking a single decisive blow on a live target of up to about 440 pounds in weight, at any distance at which the operator can shoot with the precision necessary to place a shot in a vital area of the target." Cooper provided more detail by stating a maximum weight for the rifle to be 6.6 pounds including sling and optic, and an overall length of 39 inches. Does the Savage 110 Scout measure up?

Other criteria included a scope of 1x to 3x magnification mounted forward of the magazine, synthetic stock, two-lug 90-degree controlled-feed bolt, smooth and round bolt knob, barrel of about 19 inches in length, detachable magazine, aperture sights, magazine cutoff to permit shoot-one, load-one operation, three-pound trigger, flush sling sockets, rounded buttpad to ease mounting, second magazine located on the rifle, and a built-in bipod.
Finally, the caliber was to be easily attainable and for most of us that means .308 Win. The Colonel wasn't a fan of the 5.56 NATO round. The Ching sling was also the carry-strap preferred by Cooper. The most unique feature of the Scout Rifle is a forward-mounted low-power scope. The German Army experimented with this concept during WWII fitting Mauser 98 rifles with low-power scopes.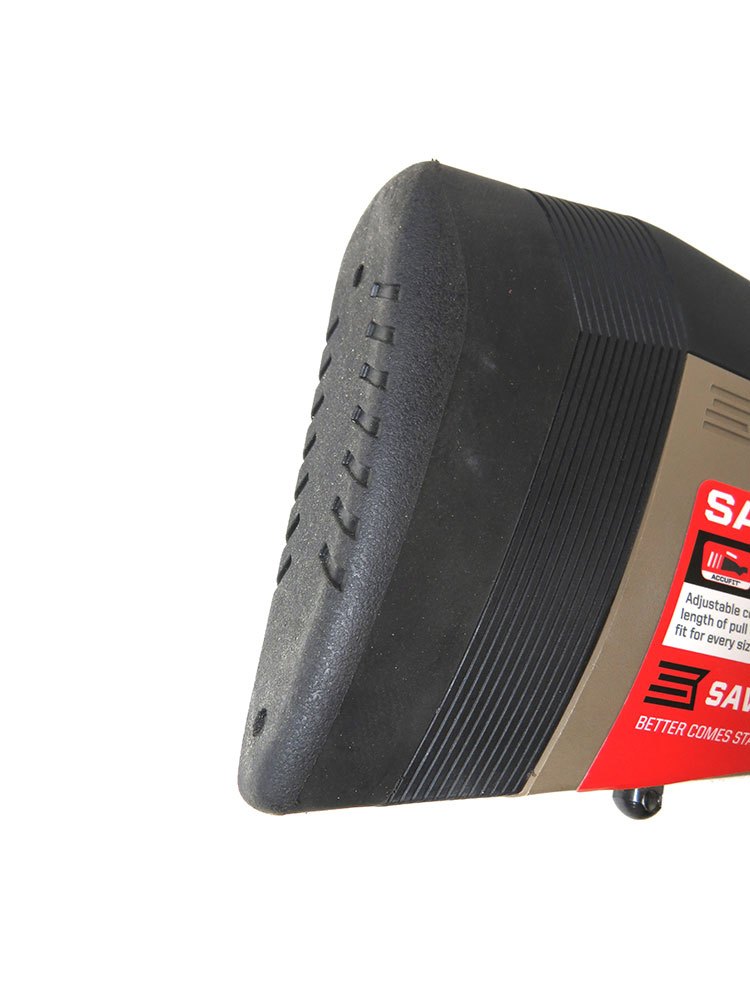 Truth be told, the Steyr Scout—the iconic Scout Rifle—is not an exact fit for Cooper's specifications, but as far as Cooper was concerned, it filled his requirements well enough. Over the years, a number of long gun manufacturers have produced their interpretations of the Scout Rifle. Does the new Savage deserve to be called a Scout Rifle or is it just a handy rifle?
On the Savage, I mounted a UTG Accushot 1-4x28mm long eye that comes with quick release rings. The UTG weighs 19.8 ounces and offers 8 to 14 inches of eye relief, a 30mm tube, exposed turrets, flip-up lens covers, and an illuminated Mil-dot reticle. Two buttons on the top of the eye piece illuminate the reticle in either red or green, plus you can adjust the color to 36 different colors. Brightness can also be adjusted. UTG packs a small card that provides Mil-dot range estimating cheat sheet. The parallax was set at 100 yards, which is fine for Scout Rifle distances, and turrets adjust a 1/2 MOA per click for the UTG.
Extended eye relief scopes allow the shooter to keep both eyes open to aim while maintaining awareness of targets. With a traditional scope mounted closer to the shooter's eye the awareness of targets in front of the shooter can be limited to the scope's field of view. The Leupold FX-II Scout IER 2.5x28mm is the benchmark scope for a Scout Rifle, mostly because this scope is simple and lightweight. It weighs about 7.5 ounces.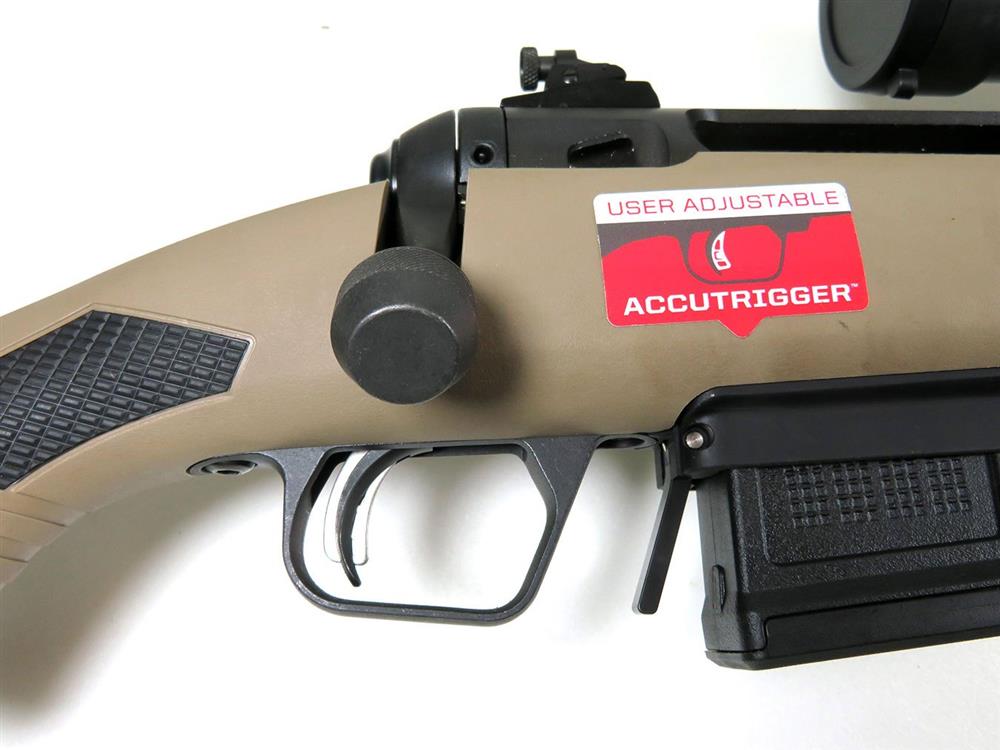 The forward-mounted scope is the most noticeable feature of a Scout Rifle. Most modern interpretations of a Scout Rifle have this feature, but they also are typically heavier than what Cooper wanted, and there are usually add ons such as muzzle devices and Picatinny rails. Cooper designed the Scout Rifle in late 20th century; perhaps he would have updated the design to include these additional features.
The Savage is chambered in .450 Bushmaster. A thumper of a round that Cooper liked.
I used Winchester Deer Season XP 250-grain polymer tip, Federal PowerShok 300-grain JSP, and Hornady Black 250-grain FTX. This round is becoming more popular partly due to the fact it is a straight wall cartridge and is legal in some states for deer hunting. It was originally designed for the AR-15 platform, and Cooper approved the round when it was first introduced as the .45 Professional. Bushmaster licensed the cartridge and renamed it the .450 Bushmaster. This is a hunting round that is quite capable out to 200 yards, though its sweet spot is up to 150 yards.
I used Bright Lightening targets from Thompson Targets which feature a 4-inch red bullseye on a white background. These targets make it easy to see a black reticle. I tested for accuracy at 100 yards resting the rifles on my range bag and using my homemade toe bag (an old gym sock filled with sand.) I checked my work with a Styrka S7 15-45x65mm spotting scope. At 50 yards, I tested for speed by cycling the bolt as fast as I could while maintaining our accuracy.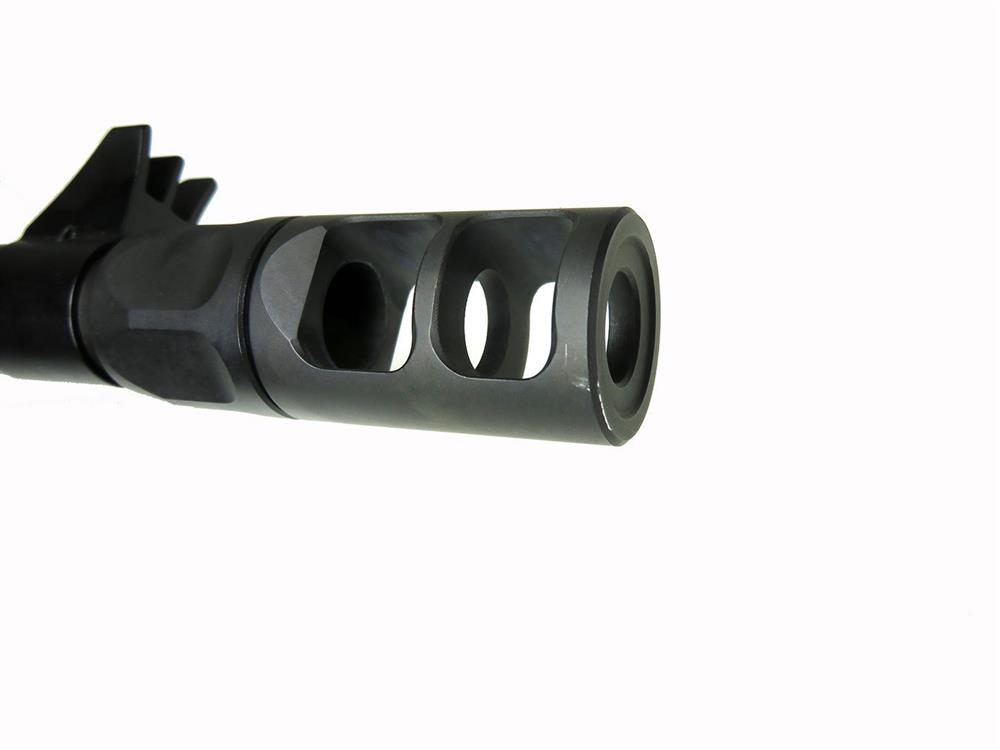 Savage Arms 110 Scout is a good example of a rifle checking off a lot of the Scout Rifle requirements, but it falls a bit short on being a true Scout Rifle. As I started shooting it, however, I found it was quite capable.
The 110 Scout features Savage's modern looking AccuStock allows the user to customize the LOP and comb riser to suit their stature and the clothes they are wearing—heavy coat for winter, t-shirt for summer. It uses two screws in the soft, rubbery recoil pad, and you can choose between 4 spacers to change the LOP from 12.75 to 13.75 inches and change the comb with 5 different risers.
The polymer stock has a permanently embedded aluminum chassis. This is a stiff setup. At the gripping areas there is rubbery checkering that makes gripping the rifle sure. The stock is tan with gray grip areas and black AccuStock inserts. I really like the ergonomics of these stocks having used the stock in several calibers from .308 Win. to 7mm Rem. Mag, and like the stock's ability to mitigate recoil.
The trigger guard is a bit oversized and compatible with gloved hands. The magazine paddle release is rather long, and that is partly due to the oversized trigger guard. In my estimation, pulling the 110 Scout through thick brush should not result in an accidental magazine dump.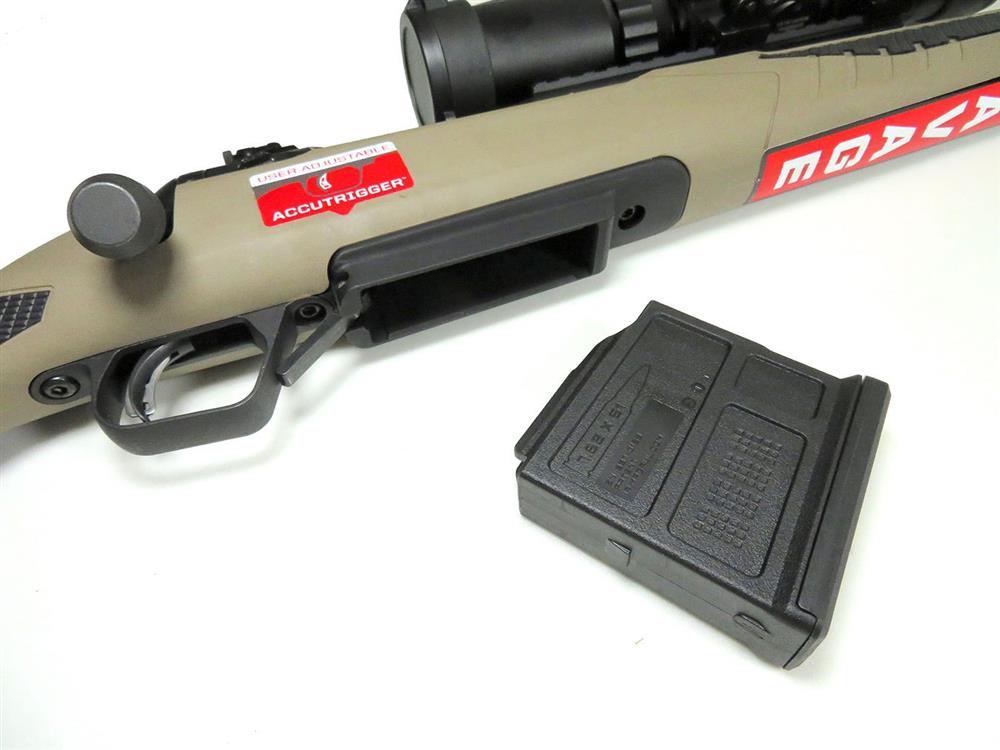 The Savage feeds from a 10-round Magpul AICS-style detachable box magazine, but only 5 rounds of .450 Bushmaster can be loaded. The magazine was easy to load and inserted in the magazine well. Loading rounds singly was easy since there was more access to the ejection port.
The heart of the Savage Scout is the 110 action mated to medium-taper barrel. The Savage is not in the Scout Rifle's weight range. At the muzzle is a ginormous muzzle brake with four large ports. This muzzle device helped during fast shooting exercises. The iron sights consist of a Williams rear peep sight, which I liked, and a protected blade front. The front blade was black, so it could get lost on a dark target. A fiber optic pipe would make the front sight better. A length of Picatinny rail is mounted forward of the action.
The UTG Accushot scope added nearly 2 pounds to the rifle. The fine Mil-dot reticle offers the ability to change the reticle colors, so I could make the reticle stand out on any color target.
The three-position safety falls under the thumb of a right- or left-handed shooter and slides forward and rearward. I liked the simplicity of this safety. Fully forward and the rifle is ready to fire. Fully rear, the trigger is blocked, and the bolt cannot be opened. In the middle position, the trigger is blocked but the bolt can be manipulated. This Scout also used Savage's excellent user-adjustable AccuTrigger.
Specifications
Savage 110 Scout

 Caliber:
 .450 Bushmaster
 Action Type:
 Bolt, push feed
 Barrel Length:
 16.5"
 Rifling:
 1:24"
 Capacity:
 5-rnd. detachable box, polymer, Magpul AICS-style single stack
 Sights:
 Williams rear peep, ramp front, forward scope mount Picatinny rail
 Trigger Pull:
 Adj., 3.4 lbs. factory set
 Overall Length:
 38.5″
 Weight:
 7.72 lbs.
 MSRP:
 $892
Going hot with the hefty .450 Bushmaster cartridges, the Savage produced some recoil though the AccuStock greatly helped manage the recoil. It was very tolerable and in fact enjoyable. Not MOA accuracy, more like MOD (Minute of Deer). The best 3-shot group I shot was with Hornady's Black with a 250-grain FTX bullet—1.28 inches and the Winchester Deer Season XP was close behind with a group that measured 1.30 inches. The smallest for the Federal PowerShok measured 1.75 inches.
All accuracy was very acceptable for hunting. Moving to the fast stage of live fire testing, the weight of the Savage helped mitigate recoil and keep me on target. The bolt worked smoothly, and I attribute this to the .450 Bushmaster loading single stack due to the cartridge's diameter. I liked the ease of loading a round, one at a time, by dropping the round on top of the magazine and chambering it with the bolt. The trigger was excellent and contributed to the smallish groups.
100-Yard Accuracy, Five-Shot Groups, Savage 110 Scout
| Load | Group | Muzzle Velocity | Muzzle Energy |
| --- | --- | --- | --- |
| Federal PowerShok 300-grain JSP | 1.75″ | 1,898 fps | 2,400 ft-lbs. |
| Hornady Black 250-grain FTX | 1.28″ | 2,200 fps | 2,687 ft-lbs. |
| Win. Deer Season XP 250-grain Poly Tip | 1.30″ | 2,200 fps | 2,687 ft-lbs. |
The Savage maybe an overweight "Scout Rifle" and not an exact interpretation of Cooper's ideal rifle, but that's OK with me. In my opinion, the Savage could be well utilized as a deer rifle in places were shots are taken out to 150 yards. The .450 Bushmaster offers a lot of thump. I like this short, handy, bolt action rifle.