Recently, I had the pleasure to test the Arsenal AK pistol. I fired the pistol extensively and found a reliable and effective firearm. My to go rifle for many reasons is the Arsenal AK-47 rifle. My choice is an underfolder. The rifle is supplied with a useful sling, oil bottle, and cleaning rod. But a little more than this is needed. The rifle is delivered with a 10-round magazine. There are more choices available.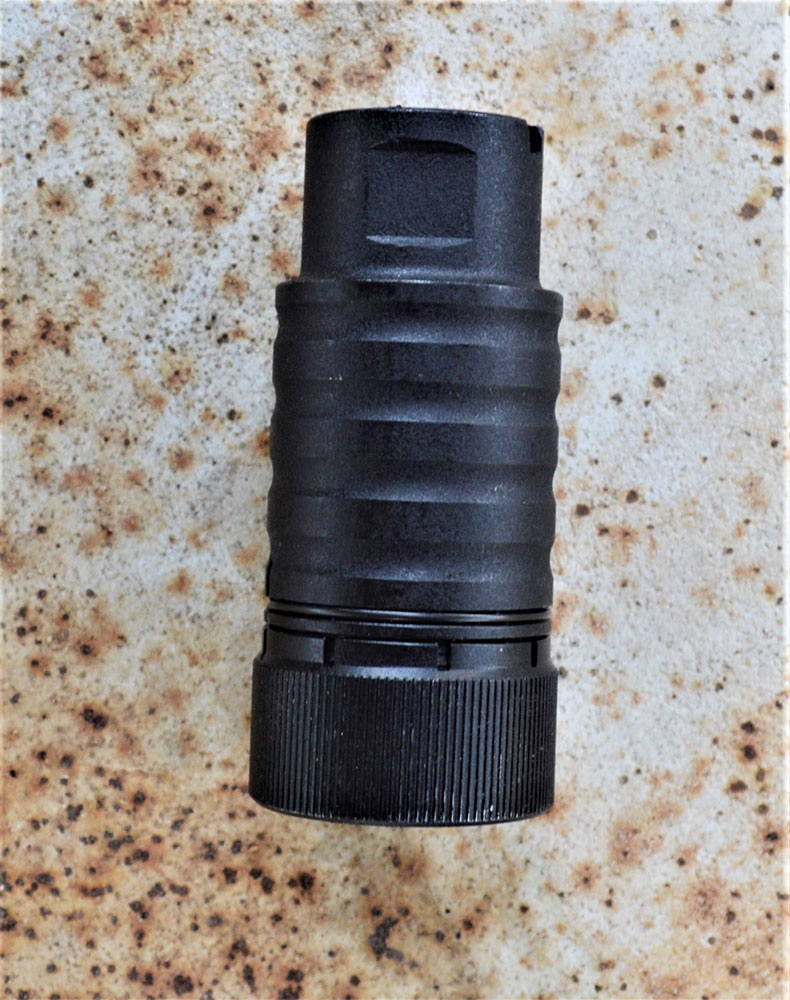 Flash Hider
When using the AK pistol, I discovered that the tremendous muzzle blast needed a bit of modification. I obtained the Arsenal 4-piece Flash Hider. The Arsenal AKs are unique in that the muzzle device is held on the rifle threads by a spring-loaded plunger. Changing the device is quite easy. The Arsenal 4-Piece Flash Hider follows the original Krinkov pattern, and is specifically designed to effectively neutralize the bright muzzle flash produced by short-barreled rifles.
This flash hider features a threaded end cap that makes for easy maintenance and cleaning. Designed for AK variants with a caliber of 7.62×39 or smaller, this flash hider is RH M24x1.5mm threaded to be compatible with Krinkov-type front sight assemblies and/or gas blocks. As is often the case, beware of cheap imitations. This is the real thing.
After enjoying positive results with the Arsenal pistol, I elected to try the muzzle brake on the Arsenal rifle as well. The effect was pronounced. The muzzle device is intended for pistols and SBRs and makes the rifle more docile. Muzzle flash varies between different loads, but few are salt treated for low flash.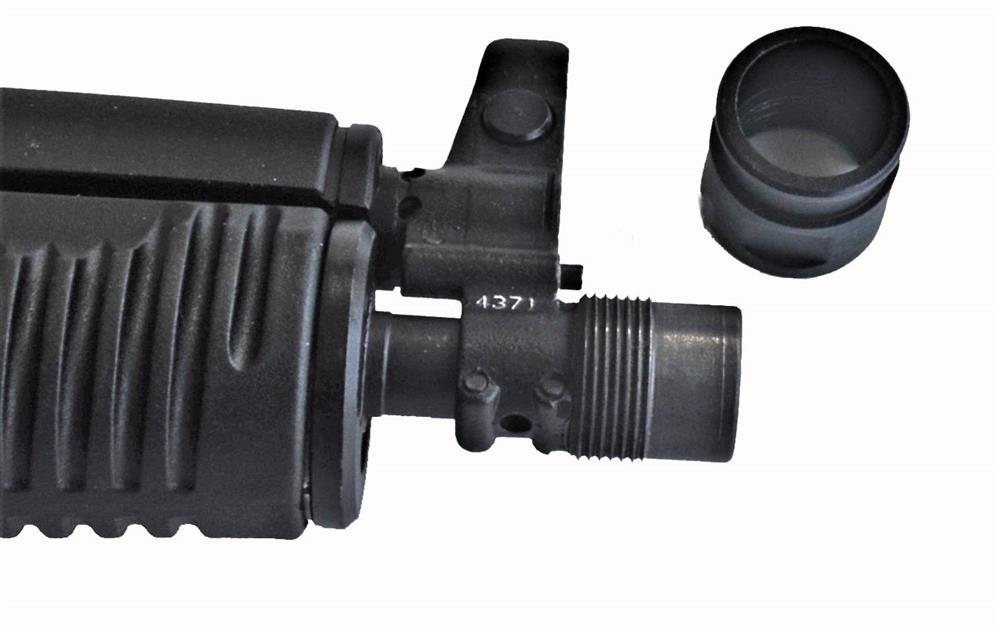 It is difficult to get a full powder burn in every rifle. This device goes a long way toward helping control muzzle flash and blast. In particular, if you are going to fire the rifle in an indoor range, this muzzle device is a beneficial addition. The part number is KR009B. This device isn't terribly expensive and well worth its price.
Magazine Selection
In magazine selection quality always trumps quantity. Just the same, we need a lot of magazines. The old school way is to search through steel magazines and hope you find one without a dent. Take the undented magazines and disassemble. The internals are cleaned with brake cleaner or Ballistol. Ballistol works well for cleaning parts and adding lubrication.
After a hard cleaning, the magazines are reassembled. There are many types of magazines. Some swear by Bulgarian magazines (I am one of these). A friend has a supply of Chinese 'notchback' magazines. Another likes the East Germans, and still another has a half-dozen Polish magazines, which I have not seen elsewhere.
There are U.S. made magazines that would make a junk dealer blush. Then, there are the Bulgarian polymer 'waffle' magazines. These mags are so named because of their ribbed appearance. They feature the notable logo of a 10 in a circle and are often called "Circle Ten magazines." Whatever you call them, they are available at K-Var.com, and they work extremely well.
Magazines are a renewable resource and sometimes need to be replaced. When you do, give some thought to the most reliable magazines, especially when the AK is in use for personal defense or home defense use. While a box of inexpensive magazines is fine for range use, for critical use the 'waffle magazine' is the best choice I have encountered.
No matter how great the history or performance of the firearm, there is room for improvement. I do not carry a 1913 Colt. I carry the most modern 1911. Those who favor a truly reliable and capable AK rifle, choose the Arsenal. Any rifle will do to hang on the wall or fill a spot in the gun safe, but for those who keep the rifle on hand for extensive shooting or emergency use, the Arsenal is a favorite. Now, the bar has been raised with the introduction of the FCG AK Trigger.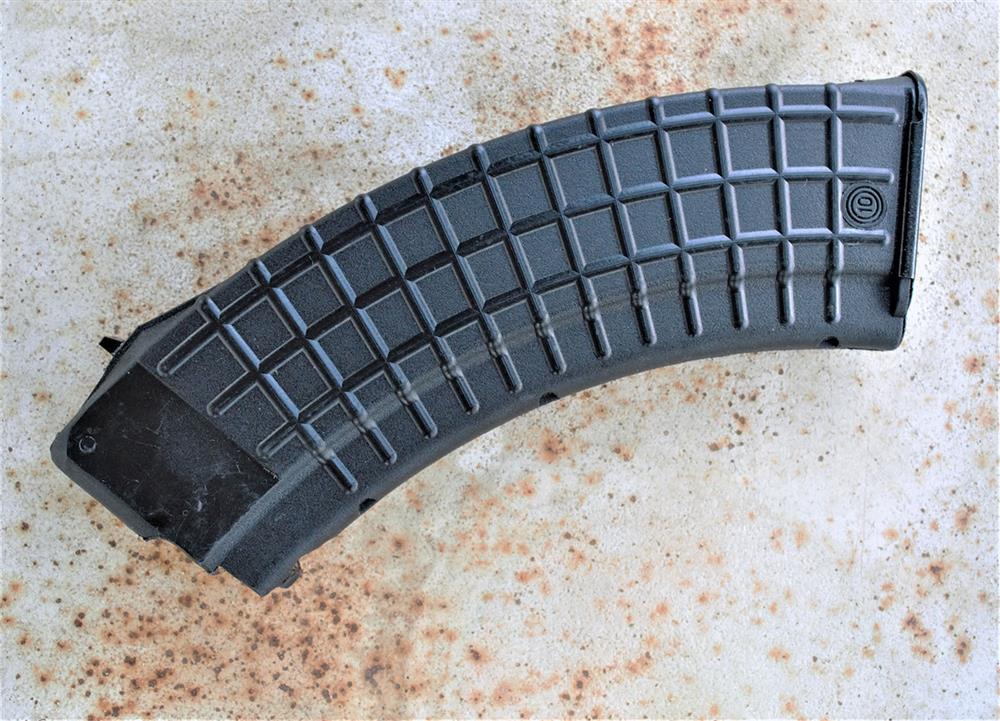 The FIME trigger group is a must have for serious AK rifle shooters. There have been issues with the AK rifle—some related to cheap production and some related to the original design. The FIME Group has spent over a year developing, engineering, and proofing an American-made two-stage MIL-SPEC trigger, the FCG AK Trigger. Workmanship and finish are good.
The FCG AK Trigger group should provide many years of service. The unit is quite inexpensive and more than fair for this type of quality. FIME will have to sell a lot of these to recoup tooling costs, and I believe they will. The issue I mention is that the safety may touch the disconnector and drop the hammer if the safety travels too far.
These are just a few pieces available for the reliable and effective AK type rifle. I enjoy the rifle and have never experienced a malfunction. I am hoping to keep it that way. The Waffle magazine ensures function and the muzzle flash hider makes firing more pleasant.
Do you run Circle 10 mags in your AK? What AK accessories do you favor for your guns? Have you tried FIME's Enhanced Fire Control Groups?