Financing your next firearm and accessory purchase is easy. Why pay for the full purchase upfront when you can have smaller monthly payments? Better yet, get approved with no credit impact. You are never locked in full term with the ability to buyout anytime, payoff your principal in 90 days to pay no interest*, and you can even build your credit with on-time monthly payments.
How It Works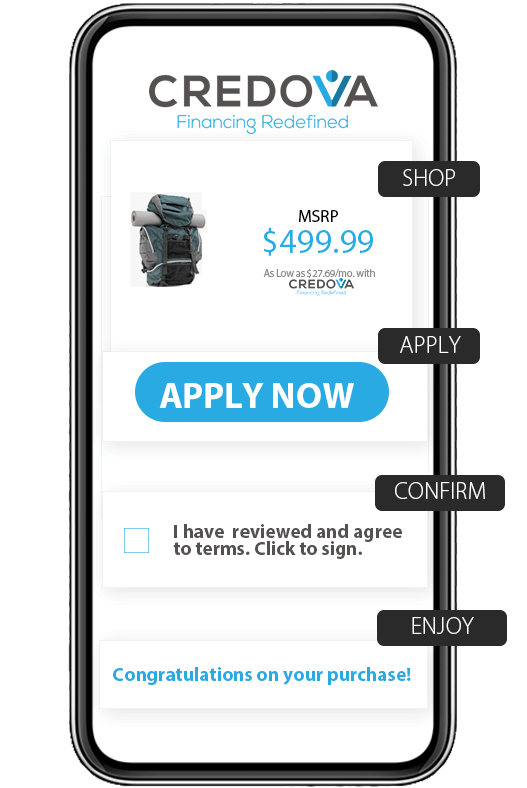 Approvals in Seconds
Apply online 24/7 for financing approvals in seconds. Applications can be filled out from any device with an internet connection. If you have any questions about the application, call 833-273-3682 to reach customer support during normal business hours of 6AM to 6PM PST.
 90 Days Interest Free
*
Payoff your principal in 90 days and you pay no interest. You can also spread your payments out up to the term length provided in your offer. Keep in mind, approvals for 90 days interest free offers are dependent upon the applicant's credit profile.
Get Approved With No Credit Impact
There are no hard credit inquiries so you can get approved with no impact to your credit score.
Pay Over Time
Credova puts the purchasing power in your hands with monthly payments instead of paying for the entire purchase upfront.
Build Your Credit
Using a financing option through Credova can help build positive credit history by making on-time, monthly payments.
Customer Support
Credova has dedicated support available for any questions or assistance you may need during normal business hours of 6AM to 6PM PST.
Call 833-273-3682 | Email [email protected] | Visit www.credova.com
---
A 5% processing fee is added to all orders using Credova
Please note we are not able to split Credova payments with other payment methods. We suggest going through the pre-approval process with Credova prior to checkout so you're aware of your credit limit.
*90 Days Interest Free Not Available on ALL Offers. Please read the offers presented to you and ensure you understand the contract before you sign it. Contact Credova with any questions regarding their service.
Credova Shooting Sports Financing ("Credova") is an independent third-party financing company and is not owned, operated, or controlled in any manner by K-Var Corp. K-Var Corp. is not a party to, nor a third-party beneficiary of, any financing agreement or relationship between our customers and Credova and shall not be responsible or liable for any issues or disputes which may arise in connection with such third-party financing.